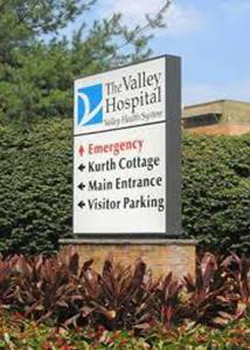 Valley Hospital Executive Boardroom
Project Value: $125 K
Designed by AVS
Engineered and Installed by AVS
Year of Project Completion: 2012
When Valley Hospital wanted to update their audiovisual system in their executive boardroom, they hired AVSI to develop a unique system that would satisfy their specific needs. In order to create a modern, technologically current boardroom, AVSI installed a widescreen digital projection system, HD videoconferencing equipment, and an integrated program that allowed for the easy use of multiple sources in presentations. When all of the components had been successfully integrated, AVSI conducted tests of the equipment that allowed them to adjust and equalize the system for better performance. Finally, AVSI offered training to the hospital staff that prepared them to use the new system.
AVSI began the process of updating the executive boardroom by installing a high-resolution widescreen projector using an electro-mechanical ceiling mount. Interface connection plates were the next step, allowing connectivity between multiple sources and outputs. Ceiling speakers and microphones, a Stewart Filmscreen that incorporated the high resolution videoconferencing camera, a vertical equipment rack, and a touch panel control system all contributed to the set-up of the A/V system of the boardroom. AVSI refinished and reinstalled the boardroom table in order to equip it for use with the new system.
The video system of the boardroom was equipped for three primary modes: presentation, videoconference, and emergency. In any of these modes, the user was able to access various sources in order to more effectively present information. The audio/playback system was designed to complement the video system by offering high quality sound for computer, Blu-ray/DVD, TV, and conferencing audio. The entire system was given easy control through the state of the art wireless touch panel. With simple, soft touch controls, this panel allows all users to successfully navigate the entire audiovisual system.