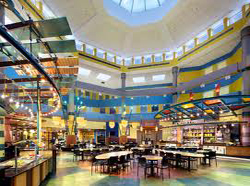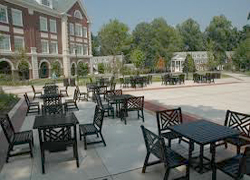 TCNJ Dining Hall
Project Value: $150K
Designed by AVS
Engineered and Installed by AVS
Year of Project Completion: 2010
The College of New Jersey's Eickhoff Dining Hall Renovation Project required the installation of a new audio video system. AVSI offered a complete package of procurement, installation, and maintenance. The contractor presented a detailed drawing that explained every aspect of the audiovisual system. When AVSI completed the project, the Eickhoff Dining Hall had a fully functional audio video system that had been thoroughly acceptance tested.
AVSI followed a plan that included the installation of all necessary infrastructure items, such as facility plates, microphones, and volume controls. The dining hall was outfitted with high quality ceiling loudspeakers, subwoofers, amplifiers, and digitally steerable arrays. The design also required a fully equipped AV system rack, from which students and faculty would have complete control of microphones, speakers, CD players, and TV displays.
In regards to display panels, AVSI installed two flat-panel entrance displays as well as menu displays. AVSI also incorporated five television displays that were furnished by the owner. Students also benefitted from the updated microphones, stands, and other related tools. An assisted listening system was created using a transmitter, antenna, headsets, earbuds, and belt-pack receivers.
One innovative element of the new AV system was the creation of two Nutritional Kiosks that were intended to provide students with access to health software. AVSI also worked with the college to develop a digital signage system that had a unique feel and look. The digital signage system was thoroughly tested and examined for safety issues.
After AVSI performed the installation of the Eickhoff Dining Hall's new audio video system, they also proposed optional improvements to the College of New Jersey, such as an 8-inch touch panel and entrance display signage monitor enclosures.