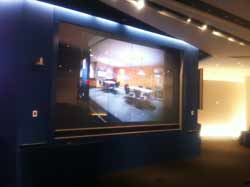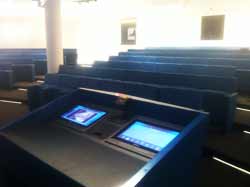 Simons Foundation Auditorium
Project Value: $800K
Designed by Jason Tsai Design
Engineered and Installed by AVS
Year of Project Completion: 2012
AVS Installation, LLC, joined forces with designers Jason Tsai Design in the creation of an advanced audio-visual system for the new Simons Foundation Auditorium. The Simons Foundation, a philanthropic group serving the needs of autistic children, wanted to create an auditorium that would allow the voices of all attendees to be heard. AVS was selected as the vendor of choice to engineer and install a delegate-style conferencing system, as well as accessibility-focused audio and visual systems.
At the heart of the auditorium are 175 seats, each of which is equipped with a microphone, an individual speaker, and "talk" and "mute" buttons. This system provides a way for any individual to join in on a conversation, without having to stand and make their way to the front of the room. Assisted listening options were also integrated into the auditorium's sound system, ensuring that each person, regardless of ability, has the same opportunity to take in a speaker's words. The system can also cater to remote listeners through Skype.
In addition to the auditorium's unique conferencing system, the room also features a world class, 108-inch display by Sharp, which allows all video to be presented in HD (High Definition) format. Media shown on the main display can also be routed to additional displays within the auditorium, as well as screens in the adjacent café and lobby areas. These screens may also be utilized as a digital signage system.
The systems within and outside of the auditorium can function in their basic modes under the guide of even an inexperienced user with the help of a simple, easy-to-use touch panel. In the hands of a more experienced operator, however, content can be played back and mixed in real time with the use of a production switcher.