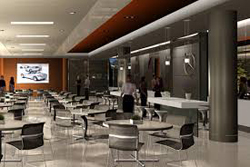 One Mercedes Benz
Project Value: $650K
Aggregate Project Value Through the Years: $5mm
Designed by AVS
Engineered and Installed by AVS
Year of Project Completion: 2006-current
AVSI has a longstanding contract with Mercedes Benz of Montvale, NJ. In the lobby, AVSI maintained two video walls created from three plasma monitors on Peerless mounts. The lobby was installed with three camera jacks that allow the client to present video productions. One video media wall was provided, as well as an AV connection plate with a network connection. A 10-inch touch panel was incorporated at the receptionist's desk that prevents non-personnel from using the AV system. AVSI also installed a new background audio system that included sixteen speakers.
In the company store as well as in the Star Café server area, AVSI supplied a 46-inch LCD monitor. In addition, the hallway out of the server area required another LCD monitor. The May Bach Conference Room required two floor boxes and a monitor cabinet with speaker enclosures. AVSI supplied and installed eight speakers and an equipment rack that included a DVD/Blu-ray player, a cable TV box, an audio mixer, wireless microphones, a custom AV plate, a power strip, and a control system.
In order to provide patrons of the Star Café with excellent service, AVSI installed a number of AV system elements in the café area. Fifteen LCD monitors and a custom AV plate allowed servers to display café information. Twenty ceiling speakers and eight waterproof outdoor speakers offer diners a pleasant audio experience. Other elements of the AV system in the café include a telepresence system and two camera jacks.
The AV machine room was designed by AVSI to offer the greatest AV control possible to employees of Mercedes Benz. The room was created to act as the source of all audiovisual system elements, including all audio and video signals for the lobby, company store, and café.