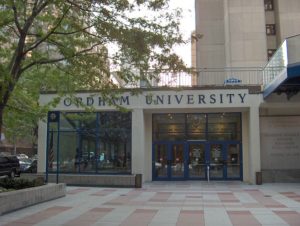 Fordham Fitness
Project Value:
Designed by Jack L. Gordon Architects
Engineered and Installed by AVS
Year of Project Completion: 2012
AVS Installation LLC was selected as the vendor of choice when Fordham University decided to reinvigorate the fitness center in McGinley Hall in 2012. The A/V systems engineered and installed by AVS included a background music and paging system, a high-performance audio system, and a video display system, with special concern given to a cardio fitness area.
Each aspect of the project took the unique needs of different fitness areas into account. Every zone of the audio system was custom tailored to accommodate the usage of the particular area. For example, aerobic areas were equipped with a system for general background music, while individual fitness studios and the free weight area received higher intensity speakers. Within the studios, individual instructors can use a microphone and speaker systems to lead their classes while simultaneously playing a high-energy music selection. The paging system was designed with the same concept of local usability in mind, and information can be targeted to speakers in certain areas or to the entire fitness center. An easy to use control panel, located at the reception desk, provides a simple interface for use of these systems.
The video display system was similarly designed to improve gym users' experiences. To maintain a sleek look for the fitness centers, all TVs were wall-mounted with low profile devices in strategic locations to optimize for high-quality images and the best possible consumer view. The cardio deck posed a unique challenge, as each individual fitness unit came with its own personal viewing screen. To maximize the usability of all three rows of cardio machines, AVS and specialists from designers Jack L. Gordon Architects installed specialized power, data, and TV feed connections to each unit.