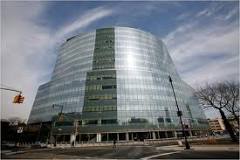 School of Law City University of New York
Project Value: $2.3 million
Designed by Sextant Group
Engineered and Installed by AVS
Year of Project Completion: 2012
As the School of Law at the City University of New York prepared for its move to a new location in Long Island City, NY, AVS Installations LLC was selected as the vendor of choice to engineer and install high-tech audio-visual systems over six floors of learning environments in the new building. Throughout the course of the project, AVS worked hand in hand with the Sextant Group, the innovative design firm that created the initial plan for the system of classrooms, conference rooms, and mock courtrooms.
AVS installed cutting-edge equipment in thirty classrooms and seminar rooms, ranging from those centered around small conference tables to lecture halls that would be able to cater to over 100 law students at a time. Each room was outfitted with an advanced emergency paging system, and digital signage systems were installed to provide live feeds of information throughout the entire building.
The focal point of the new School of Law building is, perhaps, the state-of-the-art auditorium. Using equipment in the auditorium, knowledgeable operators can capture, edit, and display information in real time, as speakers deliver their presentations. Faculty at the CUNY School of Law plan to use this technologically advanced space to host renowned speakers and hold conferences that will bring new opportunities to students.
Future lawyers will also have the chance to hone their skills in spaces such as the mock courtroom and an electronic trial practice room. Moot Court competitions held in these rooms, which feature top of the line microphones and speakers installed by AVS, will allow law students to improve their abilities in quick, critical thinking; legal analysis and research; and public speaking and oral argumentation.